Pet Revive Sigil is located at Astraea's Bastion, where you will resurrect your pet when died. But it needs the item of your pet that is died, and pay to resurrect your pet.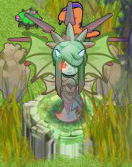 When you will resurrect your pet, you will interact the Sigil, and she talks about first time resurrecting your pet. (For only users who go to Pet Revive Sigil for first time) Then it would follow some steps to resurrect your pet, as after you will interact the Pet Revive Sigil.
So here is the banner when you interact the Pet Revive Sigil for the first time.

So, after you interact the Sigil, you may click the item (by Name) to resurrect him/her. So it is required to pay the fee for your pet would like to resurrect.
How does Pet Revive Sigil Work
Edit
After interact Pet Revive Sigil, there would be shown your item that your pet has been died (those pets who are died after the battle, and it would drop the item, so please get the item, or your pet cannot be revive when died.)
So here's the Pet Revive picture, it is an example what it would show when after you interact Pet Revive Sigil. So here you will show Pet's Blood when your pet is died, but if your pet is alive, it would not show the Pet's Blood except you change your current pet, after your first pet that it is died, dropped his/her Pet's Blood.
When you click Pet's Blood, you will continue the next step, where you will pay the fee to resurrect your chosen Pet's Blood, it is based on the name of the pet, so you cannot confused if 2 pets of same type and species were died. The name cannot be changed, but it if you will name the pet, but you will not type again the name that it is taken from your another pet.
So if you resurrect your pet, and you pay the fee to resurrect your pet, your resurrected pet is on the stable, but it would resurrect with 10%-25% HP (from the full HP of your pet) for your pet, so fully heal your pet before adventuring to avoid your pet die again. 
Ad blocker interference detected!
Wikia is a free-to-use site that makes money from advertising. We have a modified experience for viewers using ad blockers

Wikia is not accessible if you've made further modifications. Remove the custom ad blocker rule(s) and the page will load as expected.